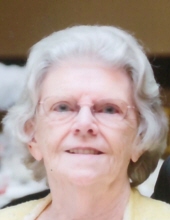 Obituary for Judith Garrett
Judith (Jude) Garrett, of Spring Grove, IL died peacefully at Mercy Care Center in Harvard, IL, under the loving care of her two daughters and the wonderful Mercy staff on February 23, 2018. She was 85 years old.
Jude is survived by her children, Matthew Garrett and wife Becky of Wheaton IL, Loreen Letzter and husband Jeff of Spring Grove, IL and Lynette Garrett of Antioch, IL; her nine grandchildren, Kaley (Joe), Tony (Angela), Jenna (Michael), Robert, Andy, Claire (Tony), Gabrielle (Jonathan), Kelsey and Brian; great-grandchildren Elise, Ava and Bentley. She is preceded in death by her infant child Mary; her husband, Robert Garrett of Mt. Prospect IL; son-in-law, Timothy Cunningham of Spring Grove, IL; her parents, James and Mary Unsworth; her brothers James and Peter all of Perth, Western Australia.
Jude was born on April 9, 1932 in Manjimup, Western Australia to James and Mary Unsworth. The Unsworth family was greatly impacted by World War II. James senior became a Japanese prisoner of war, surviving years of torture and neglect only to die shortly after returning home. Brother James quickly enlisted in the Australian army after his father's capture with the hope of being of, somehow, being able find his father. Brother Peter tried also to enlist, with the same intentions, but was caught falsifying his age. After the war young Judith served in the Australian Citizen Military Forces nursing core earning the rank of sergeant and was honored in 2008 with the Australian Defense Medal in recognition of her service.
In 1956, Jude left Australia with her lifelong friend Noreen (Nob) Magee on a tour around the world. They made it as far Vancouver BC, where they met some U.S. sailors on leave. One of those sailors was Robert (Bob) Garrett of Chicago, IL. Bob and Jude married after a six week whirlwind courtship on July 6, 1957 in Vancouver. Jude left Vancouver alone, traveling to Chicago to begin her life in the United States with Bob's family, while he finished his tour in the Navy as radioman on the USS Yorktown.
In 1966, Bob, Jude and their three children went to Australia and lived there with the extended Unsworth family until 1972. The family returned to the U.S. and established home in Mt. Prospect, IL where they were members of St. Emily's Catholic Church. Jude was widowed in 1978. She lost her beloved husband, when he was just 39 years old, to cancer. Jude remained completely devoted and hopelessly in love with Bob for the rest of her life. Her surviving children remember her as a hardworking, diligent and ruggedly independent women. She needed to be, and was, a patient, devoted mother who supported them in all their pursuits while supporting herself with a career at AM Multigraphics and then Bang and Olufsen of America.
After retirement from B&O in 1998, Jude settled into a quiet life of reading, letter writing and outings with work friends. Her favorite past time was knitting and crochet work. She went through hundreds of skeins of yarn producing a huge inventory of heirloom pieces for her grandchildren, great grandchildren and great grandchildren still to come. Her work is impeccable. She enjoyed planning all year for gift giving at Christmas time, made easier by her time spent on the Home Shopping Network and QVC. Her retirement years were spent mostly in her condominium in Buffalo Grove, IL where she was a member of St. Mary's Catholic Church. In 2014, she was welcomed into the home of daughter Lori and her husband Jeff where she was lovingly cared for and enjoyed her final years among family and friends.
Friends and neighbors can gather to meet with the family on Tuesday February 27th, 2018 from 9:30 AM until the time of Mass. Judith Garrett's Mass will be celebrated at 10:30 AM at The Church of Holy Apostles, 5211 Bull Valley Rd, McHenry, IL 60050. Mass will be officiated by Rev. Paul White. Interment will be at All Saints Cemetery in Des Plaines, IL.
In lieu of flowers, the family would appreciate charitable donations to CyclingforKids Inc. in memory of Jude. Cyclingforkids Inc. is a non-profit organization, founded by Jude's daughter Lynette, dedicated to serving the needs of victims of child abuse and neglect. Donations can be made through the organization's website: http://www.cyclingforkids.net/donate.
Services are entrusted to Justen's Funeral Home and Crematory. For information, please call the funeral home at 815-385-2400, or visit www.justenfh.com, where friends may leave an on-line condolence message for her family.
Previous Events
Visitation
The Church of Holy Apostles
5211 W. Bull Valley Road
McHenry, IL 60050
Funeral Mass
The Church of Holy Apostles
5211 W. Bull Valley Road
McHenry, IL 60050