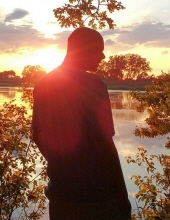 Obituary for Robert Raymond Somers Jr.
Robert Raymond Somers Jr., age 38, of Round Lake Heights, lost his battle with cancer and passed away peacefully early Thursday, May 3, 2018, in his home with his family at his side. Moments after he passed, thunder could be heard from the heavens. Robert was reunited with his father once again, and together they immediately started bowling with the angels. He was born November 14, 1979 in Waukegan, IL to Robert R. Sr. and Susan (Huber) Somers. On May 26, 2012 he married Evelyn "Mikki" in Chicago, and recently renewed their vows.

Robert was a longtime Round Lake area resident, and attended Round Lake High School. He was a valued associate at Larsen Manufacturing for 12 years, working as a quality inspector. Robert enjoyed quality time with his son playing football. He was a huge New York Jets fan, and received an autographed football and gift basket from the team, meeting them was on his bucket list. Robert also was an avid Cubs and Winnipeg Jets fan.

His true passion was bowling, which was passed down to him by his father. The Somers' family loved spending their time at Lakes Bowl, watching and learning from their dad's experience. Bowling is more than just a game, it's a family tradition. Robert had a few 300 and 299 games under his belt, and he also attended the Nationals in Reno.

Robert was a fighter and survivor, never giving up. He struggled and fought cancer back in July of 2010 and entered remission. Unfortunately it came back two years ago shortly before his father passed, and continued to fight again with the support of his family and friends.

Robert was a kind soul, loving son and husband, devoted father, caring brother, good friend to many, and a darn good bowler, who will be forever in their hearts.

Robert leaves behind, his wife, Mikki; four children, Robert R. Somers III, Ashleigh Vollmer, Ashley Shelton, Michaelleen Shelton (expecting his first grandson, Zodiac); his mother, Susan J. Somers; two sisters, Bobbie Jo (John O'Hagan) Somers, Lisa (Brian) Hayes; four nephews, Matthew Somers (who is also his Godson), Mikel Somers, Eddie O'Hagan, John Carl O'Hagan; many cousins, especially Fred and Stacy Anderson; a large bowling family at Lakes Bowl; and his faithful best friend, "Jet".

Robert was preceded in death by his father, Robert R. Somers Sr. on June 18, 2016, his maternal grandparents, Richard (Betty) Huber, and his paternal grandparents, Fred (Dolores) Somers.

Visitation will be from 4 p.m. until 8 p.m. Monday, May 7, 2018, at Justen Round Lake Funeral Home, 222 N. Rosedale Court, Round Lake, IL 60073. The Celebration of Robert's Life will take place 8 p.m. in the funeral home.

Following his services, the cremation rite will be accorded privately. Inurnment will be private.

In lieu of flowers, memorials to the family would be greatly appreciated. For information, please call the funeral home at 847-546-3300, or visit www.justenfh.com, where friends may leave an on-line condolence message for the family.