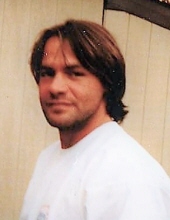 Obituary for Kenneth Patrick Clark
Kenneth Patrick Clark, age 56, of Mesa, AZ and formerly of McHenry, IL, passed away on December 20, 2017 at Banner Medical Center in Phoenix, AZ. He spent his last few days surrounded by his children and family.

Born May 17, 1961 in Woodstock, Illinois to Francis Doolan and Etta Virginia (Reinhard) Clark, Ken grew up as the fourth child in a family of six boys. He attended McHenry High School - East Campus. From 1982 to 1992, he was married to his life-long friend, Debbie Keller, and they had three children. Ken had two more children with Jill Anderson, his long-time partner from 1992 to 2006.

Ken's entire career was in the field of carpentry and woodworking. Most recently, Ken owned and operated KC Construction of Arizona and Rainbow Decorating of Arizona. He was employed previously at Woodmasters of Prescott, WI, and Loitz Construction in Illinois. He was dedicated, talented, and incredibly passionate regarding his work. His many professional accomplishments, however, would never compare to his dedication to his children. A very proud father of five children, they meant the world to him.

He is survived by five children, Kenneth Clark Jr. of Mesa, AZ, Eric (Pam) Clark of Johnsburg, IL, Danielle Clark of McHenry, IL, Kaili (Steve) Clark of Colorado Springs, CO, and Alexa (Andrew) Clark of McHenry, IL; his brothers, Michael (Linda) Clark of Rowlett, TX, William Clark of Seattle, WA, David (Diana) Clark of Naperville, IL, and Jimmy (Kelly) Clark of Rowlett, TX; four grandchildren with a fifth on the way, Neven, Landon, Noah, & Raelynn; the mothers of his children, Debbie Clark of Mesa, AZ and Jill Anderson of McHenry, IL; a step-son, Jordan Anderson of Austin, TX; and many nieces and nephews and close friends.

He was preceded in death by his parents, Etta and Francis Clark; his younger brother, Daniel Clark; and his mother-in-law, Ruth Glowe.

As per his wishes, the cremation rite was performed. Friends are invited to join his family for a memorial gathering in Ken's honor from 12 p.m. until 3 p.m. on Saturday, March 24, 2018, at Justen Funeral Home & Crematory, 3700 Charles J. Miller Road, McHenry, IL 60050. A time for family and friends to share memories will take place at 2 p.m.

Memorials to the family would be appreciated. For information, please call the funeral home at 815-385-2400, or visit www.justenfh.com, where friends may leave an on-line condolence message for his family.
Previous Events
Memorial Service
Justen Funeral Home & Crematory
3700 Charles J. Miller Road
McHenry, IL 60050