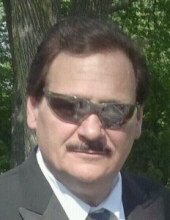 Obituary for Joseph Lovergine
Joseph Lovergine, 62, of Woodstock, passed away on April 6, 2018, at his residence. He was born in Chicago on February 8, 1956 to Michael and Josephine (Franceschini) Lovergine. On November 1, 1974, he married the love of his life, Sue West, in Woodstock.

A tool and die industry worker by trade, Joseph enjoyed working with his hands. He spent his leisure time building RC planes and model rockets as well as fishing. Above all, he loved his family, and will be forever remembered for his dedication to his children.

Joseph is survived by his loving wife of forty-four years, Sue; his cherished children, Amber (Alex) Glimaldi, Tina (Bryan) Stevens, and Joey (Kelly) Lovergine; his eight beloved grandchildren; a brother, Michael Lovergine; a brother-in-law, Ray West; and a sister-in-law, Pam West.

He was preceded in death by his parents.

Services are private for the family. The cremation rite was accorded privately.

Arrangements were entrusted to Justen Funeral Home & Crematory. For information, please call the funeral home at 815-385-2400, or visit www.justenfh.com, where friends may leave a condolence message for Joseph's family.
Events