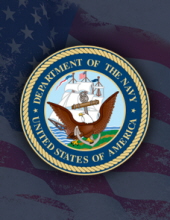 Obituary for John T. Miller
John T. Miller, age 96, of McHenry, passed away Thursday, July 19, 2018, at his home.

He was born February 3, 1922 in Chicago to Sam and Ann (Bendisk) Miller. Raised and educated in Chicago, John entered the U.S. Navy after graduating from high school. He received training at the U.S. Navy torpedo school in San Diego before being assigned as a torpedo man aboard four ships during World War II.

After his honorable discharge, John returned to Chicago, where he began his lifelong career as a truck driver, and was a proud member of Teamsters Local 705. He met his future wife at work, and went on to marry Elinor May Hoban. John and Elinor raised three sons first in Chicago and then Rolling Meadows. John enjoyed serving as an umpire with the Rolling Meadows boys baseball program while his sons were growing up. John later moved to Mt. Prospect where he lived for many years before moving to McHenry two years ago.

As a young man, John enjoyed the performing arts, and with his brother, performed at Second City. He loved opera and listening to music from operas. Golfing was another passion he enjoyed throughout his lifetime.

Survivors include three children, John II (Terry), James (Debbie) and William (Denise); five grandchildren, John III, Matthew, Brooke, Shannon and James; 7 great grandchildren; and a sister, Helen (the late Pete) Kanelos of Chicago.

In addition to his parents, he was preceded in death by his wife, Elinor, in 1981; three brothers; and four sisters.

The family chose to hold a private gathering to celebrate John's life.

Arrangements were entrusted to Justen Funeral Home & Crematory, 3700 W. Charles J. Miller Road, McHenry, IL 60050. For information, please call the funeral home at 815-385-2400, or visit www.justenfh.com, where friends may leave a condolence message for John's family.
Events
Event Information
Family Held Private Gathering